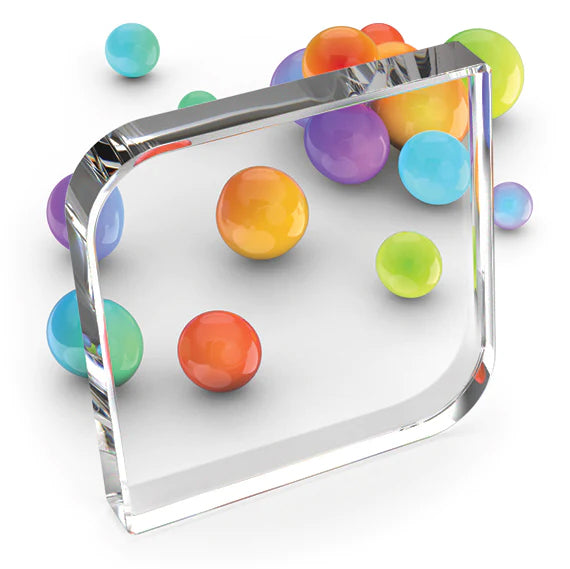 Acrylic
Inside a traditional, condensation filled, glass terrarium, it's impossible to enjoy your plants exquisite colours and shapes.

The crystal clear dome of your biOrb AIR enables you to enjoy every facet of the wonderful tropical world you create.

But being perfectly suited to your home with its award winning, chic, minimalist design is not enough … how your biOrb AIR performs is equally important

- it needs to have 'functional beauty'.
Glass
For example, the biOrb AIR is made with acrylic instead of glass.

Why?

Because Acrylic is incredibly strong.

What's more, acrylic doesn't have a green tint like thick glass always does. And allows 23% more light to pass through.

All this means the clarity of your biOrb AIR is astonishing. Allowing you to savour even the smallest detail of your planted world.
Which biOrb AIR is right for you?
Both biOrb AIR models let you landscape and cultivate your own wondrous natural world. But there are differences between the 2 models. Some of which may affect your choice. For example, if space is a limited, the 19.75 in. diameter of biOrb AIR 60 may be too big for you. And you're better off with a biOrb AIR 30 if you want to grow semi-arid plants. Finally, if you want simple 'set and forget' control, the biOrb AIR 30 with its remote control is the model you need. The following table will make it easier for you to select the biOrb AIR that's right for you.


| | | |
| --- | --- | --- |
|   | biOrb AIR 60 | biOrb AIR 30 |
| Dimensions (Dia x H) | 19.75 x 22 in. | 15.75 x 18 in. |
| Integrated Ring of LED Lights | Yes | Yes |
| 24-Hour Light Cycle | Yes - 12 hour day with sunrise and sunset | Yes - selectable day length with sunrise and sunset |
| Color | White / Grey | White / Black / Grey |
| Whisper Quiet Fan | Yes | Yes |
| Replaceable Carbon Air Filter | Yes | Yes |
| Misting Unit | Yes - adjustable with boost | Yes - adjustable with boost |
| Water Reservoir | Yes | Yes |
| Water Level Indicator | Yes | Yes |
| Remote Control | No | Yes |
| Suitable for Tropical Plants | Yes | Yes |
| Suitable for Temperate Plants | Yes | Yes |
| Suitable for Semi-Arid Plants | No | Yes |
Both models are manufactured to biOrb's exacting standards. So whichever model you choose, you're assured of biOrb's renowned build quality. In the extremely unlikely event anything should go wrong, you don't have to worry. You're covered by biOrb's no nonsense, 100% satisfaction, cast iron, 2 year guarantee.